Download the list of 425 platform acquisitions made in Q3 2023
Private Equity Info is offering a free downloadable list of the 425 platform acquisitions made in the third quarter of 2023.
While a wide variety of industries were represented, the prevalent industries include: Software and SaaS; Manufacturing of Chemicals, Plastics & Rubber, Metal Products, Machinery, and Electronic Products; Healthcare, including Dental and Physical Therapy; and Food Services.
The Excel file includes 425 portfolio companies acquired by 322 private equity firms in Q3 2023 with portfolio company name, investment date, website, and the acquiring private equity firm.
Enter your info to download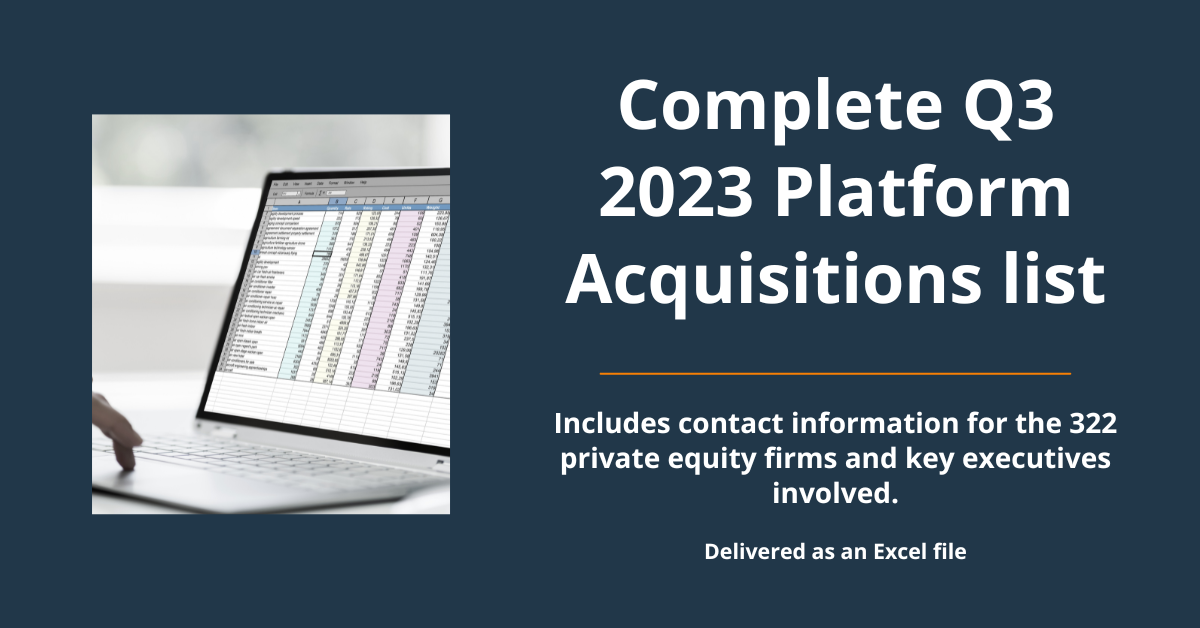 Add executive contact information
Buy the complete Platform Acquisitions list for more info
The more in-depth list includes detailed descriptions and location information for the acquired portfolio companies, the private equity firm location and contact information, and the contact information of the key executives involved.
Close more deals with cutting-edge M&A research tools
Private Equity Info database lets you search, identify and download targeted lists of prospects to close more deals. Connect with key executives across thousands of companies, firms and funds in the M&A industry.
Exact Executive
Quickly identify key private equity decision-makers for your deal.
Auto-Search
Save hours of research by instantly mapping the companies in an industry with just a few keywords.
LinkedIn Profiles
Connect to key executives with LinkedIn profiles.
Comprehensive and accurate data
Connect with 127,000 key executives across 16,000 firms and 33,000 funds in the M&A industry, plus more than 1.3 million private companies.